Research trip with fun attached Medieval Music in the Dales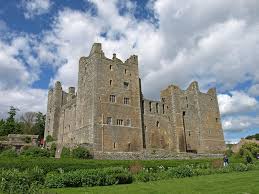 I'm ostensibly here to gather data for use in my doctoral thesis about the practice of improvisation – well, that's a loaded word – or more broadly creativity in the medieval music revival. And I am in fact doing that, interviewing people and asking for medieval music enthusiasts of all stripes to fill in an online survey. But I have to say, this is a brilliant place! The venue is just astonishingly perfect – from smoke filled tavern (ok, maybe the smoke filled bit is a bit less than perfect!) to open air ruined chapel; from intimate church to fabulous great hall full of instrument makers. The view of the valley is amazing and the building, still in the hands of the descendants of the original builders, is a wonderful mix of ruined and reclaimed. The garden is also a marvel with its walled vineyard and 'Mary garden' full of flowers with a medieval symbolism for the Virgin Mary, and a gorgeously pruned labyrinth as just some of its attractions for me.
I played here a couple of years ago, having been really impressed by the gutsy verve behind what is a complex venture – Gill and Paul from the group Trouvere are just astonishing in their ability to make this happen, bringing people together, planning great themed weekends which appeal to a whole load of different sorts of medieval lovers – lots of reenactors, Waits groups, medieval music makers and professionals. The variety is huge, with an emphasis on workshops and participation. The tavern is full of informal music making with one or two clear leaders, as well as a series of mini concerts which are a bit more planned. But there's also music in bedrooms and marquees and village halls….
The Friday and Saturday evening concerts are a great way to get to know who's out there playing medieval music as they mix a selection of groups and musicians together in short sets, people who are doing longer concerts at other times during the festival. The York Waits are a long established group who this year explored the theme of Prince Arthur, Henry VIII's elder brother, being connected mythographically to King Arthur (the theme of the festival is 'The Matter of Britain'). Their loud shawming was truly wonderful but a few issues with instrument tuning precluded me from enjoying quite so fully some of their other offerings alas, though I really appreciated the vocal flexibility and colour of their singer Deborah Catterall (I'll actually be doing a gig with her next year). Their programme included some interesting stuff alongside more familiar things like 'Deo gracias Anglia'.
Bill Taylor is my harp hero and played a selection of Irish chant from various sources and Scottish polyphony from the manuscript known as W2 (or is it W1…I can never remember and being out in deepest darkest Dales, the internet is too slow for me to check!) I had tears in my eyes hearing the subtlety of placement of each note with such care, such musicality – it wasn't at all precious, just perfectly placed. I had the privilege of interviewing him as well to talk about his approach to medieval music and a beautiful quote stuck with me – he took it from Giraldus Cambrensis who got it from Ovid – "Art which is concealed is better—art revealed is art shamed." or words to that effect…. As an aesthetic choice based on a medieval source, this came through in his performance's delicacy and intimacy. I still have much to learn!
At the opposite end of the scale was another harpist, Sarah Deere-Jones, whose aesthetic choices I found hard to agree with. Personally I wouldn't be tempted to create an alternative harmonic setting for the song 'Ther is no rose' as its setting as found in the Trinity Carol Roll to me is already a true pearl. However, if there's one thing that an academic and a musician should relish, it's the opportunity to question why one performance grates and seems 'wrong' – I think I'd be ok with a version using a santur and a vocal production style and timbre from outside the Western European Art Music tradition for example, so why not this? I'm all for creativity in using medieval musical materials after all! So why do I draw a boundary there? Questions to be explored without a doubt. I'm keeping an open mind.
Barnaby Brown and Stef Connor got a standing ovation. For my taste, their flexibility of approach to a song like St Godric's 'Christ and seinte Marie' (in a manuscript at the British Library) matches what I would aim for – using the melismas as vocal inflections or ornaments where that seems to be a possibility. And I'm not even going to talk about the unbelievable and truly beautiful and musical versions of exceptionally ancient music on exceptionally ancient instruments (replicas thereof, of course)…. Stef did a version of a Sappho song which I hope might appear on a forthcoming CD Apollo & Dionysus: sounds from classical antiquity (European Music Archaeology Project Vol 5).
More interviewing to come up today, this time with Ian Pittaway, someone who is very active musically with the materials I'm interested in and who I am sure will be super interesting.