Talking about medieval song in Britain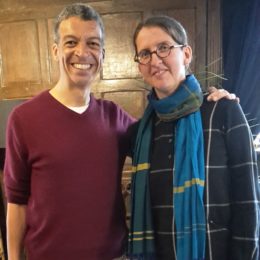 Back in February, I was contacted by a guy from BBC Radio 4 based in Cardiff. He wanted to have a chat about medieval song in Britain. I was a bit bemused as to how he might have ended up on my website – I mean, I think of myself as primarily a harpist though I do do a bit of singing now and then. So, on a cold day later that same month, I rang him from outside the Bibliothèque Nationale music department in Paris and we had a long conversation about different medieval song related topics. He reminded me of this lovely blog post about a concert I did in Beverley back in 2013, which had contributed to him contacting me.
I told him some stories about medieval English songs, about how 'O Rosa bella' is just one of those songs that seems to stick in people's heads now, and how it was written down really often in the 15th century too suggesting its enormous popularity back then, even if the English text has been totally lost. (You can hear it here in a version played by some friends from my time at the Schola Cantorum in Basel, or you can buy my Wool Merchant CD and listen to it like that!) Both my sister and my husband have complained about it being an ear worm when I've had to practise it for a gig! I mentioned the Alderman of the City of London who wrote down a song with two texts, one in Middle English and one in Anglo-Norman in the middle of a big manuscript fulls of all sorts of other stuff like lists of popes and a genealogy, as well as rules and regulations relating to duties for his role in the town (Arnold Fitz Thedmar was his name, rather marvellously). You can hear his song in Middle English, 'Ar ne kuth ich sorghe non', on my other CD, Sacred Fragments! I also talked a bit about that marvellously English genre, the carol, and how it mixed up languages and was not just for Christmas – just think about the Agincourt Carol, a massive piece of propaganda following the victory over the French there in 1415.
This was followed by various emails with more song story ideas. How about the fact that the earliest known 'song' was a poem by the cowherd Caedmon, who used to get up and leave the feasting before the 'cithara' (harp or lyre) was passed to him because he couldn't sing. Then he had a dream and a poem was 'revealed' to him – this is his hymn, a lyric in Old English which is about the Creation. Bede tells us this story in his Ecclesiastical History so really we ought to think of it more in the sense of giving a religious origin and meaning to vernacular creativity than a real indication of how Old English poetry was performed and created. There's no musical notation, but it was obviously meant to be sung.
Or indeed, the first lyric in English where we have musical notation. Also from Northumberland, St Godric dreamt three separate songs (one of which was sung to him by his sister in the vision) which were written down with music in various copies of his Saint's Life (an important literary genre viewed as a biography of the Saint in question and used as propaganda or as an exemplar for living). The music notation survives "against the odds" – writing musical notation was a very specialist skill and it would also have needed someone to be there who knew the melody. These are religious songs and two of them also have Latin versions.
Chris was particularly interested in my story about another song though, a quite famous one called 'Mirie it is while sumer ilast'. It's found on a fragment of moth eaten parchment (or whatever insect it is that eats parchment). On this single page are two other songs in French (I imagine it's Anglo Norman), one which has survived in full. They're love songs. 'Mirie it is' was probably a love song too, but it's hard to say because we don't have more than the first five lines – it is lamentably incomplete. The opening talks about the weather – "It's lovely while summer lasts and birds are singing but now there is the wind's blast and strong weather, oh alas the night is long and I am done much wrong, sorrow and mourn and fast…" Quite a common kind of topic for the start of a song, perhaps this one went on to lament a lover's wrongful spurning of the singer. This parchment sheet dates back to the early to mid 13th century. Could it have belonged to a big collection of songs of English origin like the ones we have of trouvères from Northern France?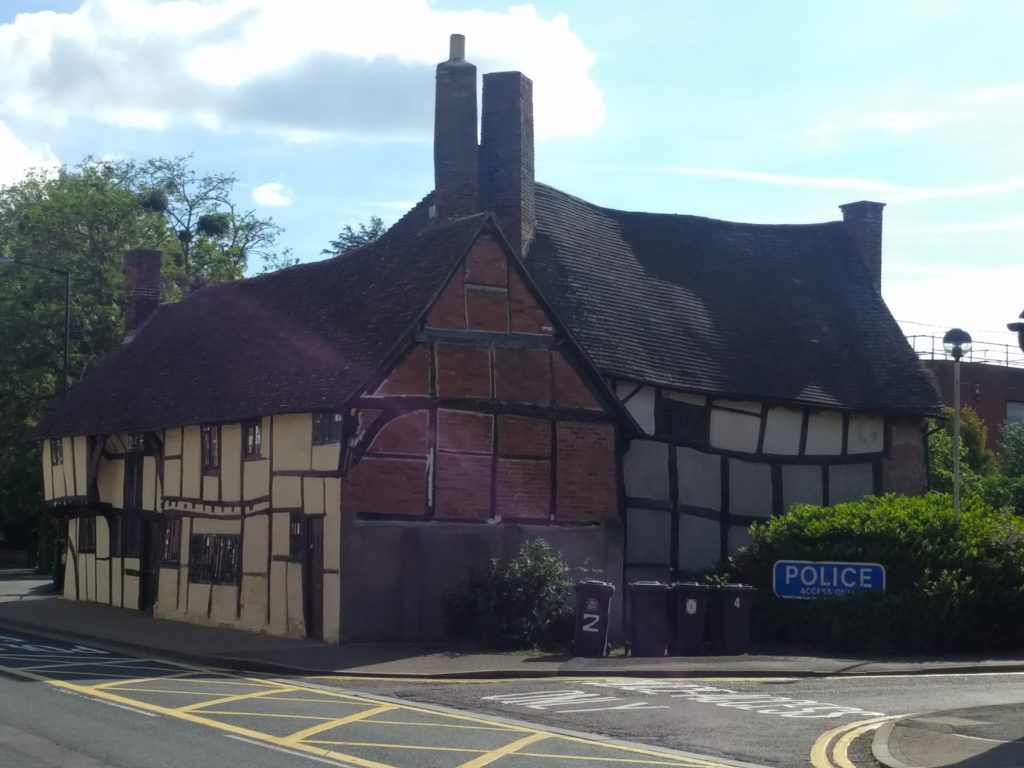 We actually looked a bit at the manuscript scrap (a printed out photo of it) when I eventually met with Chris and Roderick Williams, who is the presenter of the Radio 4 show about songs and singers in Britain that's going to be broadcast in August. That was back in May and we got together in this amazingly beautiful and historic house in Stratford upon Avon. Roddy very bravely tried to give reading it a go, getting perturbed by the fact that a facsimile photo of a manuscript full of holes doesn't give you much clue about whether that blob is actually a note, or just a hole! I was happy to help out. Of course, I already know the tune really well, so I wasn't put on the spot by having to sightread it or anything! At the same time, it's always worth revisiting the source because there is definitely an oral tradition that has built up around the song. I first learnt it at Dartington International Summer School from the Dufay Collective who had their own way of singing it, which is super effective and sticks well in the mind, thus making it tricky to hear it with fresh ears. The original notation doesn't have any indications of rhythm for example, so from that perspective the Dufay Collective's version has employed some musicianly imagination and it's more or less open to any kind of modification which you think works!
A real highlight of the interview was accompanying Roddy singing 'O Rosa bella'. His speciality is quite far from medieval music, but he's an intelligent and flexible singer and the only thing holding him back from becoming the world's most famous medieval singer is the fact that it's not everyone's cup of tea, and I imagine he prefers all the other wonderful music he gets to perform. The main thing I noticed was the beautiful sustain of long phrases that he brought to the song. It made me realise just how short and chopped the lines are made by singers I usually work with – it's obviously an element of medieval style, and isn't worse, it's just different. Having a new sense of musicality that could come to 15th century music afresh with different preconceptions meant I was enabled to hear it differently too, and that was pretty refreshing.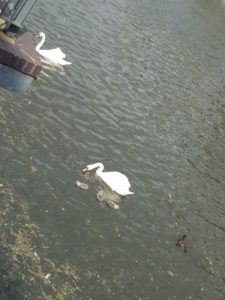 After the work was over, I popped down to the river to have a picnic and then hung out with tea and free wifi for a bit in a posh hotel, before wending my way back to London. People have a beautiful accent in Stratford :) and it was a gorgeous sunny day.
You'll be able to hear the results on Radio 4 from next week, 7th August. I'll be appearing on the episodes broadcast on the 14th and 21st August.