The most popular (European) song of the 15th century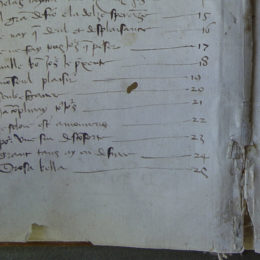 So, just how do you judge whether a song was well known and well liked in the 15th century? In the 20th century, you might count how many cover versions were made, or look at record sales in different countries. In the 21st you'd probably want data from streaming platforms like Spotify or Google play. In the 15th century though, the best way we have now to judge is by looking at the number of times it was written down.
Of course, we only have the manuscripts that have survived, so inevitably we might be missing other occasions when it was written but then lost, like in a library fire or just because it wasn't looked after or valued (music does go quickly out of fashion!) Even so, there is one song that massively stands out in terms of just how many copies we have of it. That song is 'O Rosa bella' by John Bedyngham.
This song appears in 18 different copies. It was the most written out song of the whole 15th century. Not only was it copied but it was re-worked, re-made, re-envisioned and generally messed about with – musicians were doing the 15th century version of cover songs, and putting their own individualised stamp on the original, like Otis Redding in 'Try a little tenderness'.
As a first example, there is this two voice 'gimel' by Ockeghem. (Gimel or gymel, maybe stemming from the Latin gemellus, for twin, simply describes a section of or an entire piece for two equal voices). It also became the basis for sacred songs, although it seems to me that there was much less separation between the two spheres, religious and non-religious, during the Middle Ages, and of course, most learned people who might have been able to write music down were probably involved in the church in some fashion. Here's the Kyrie from the Mass 'O Rosa bella'. Other people wrote new sacred texts for the hit tune, like "O rosa bella, o tu mi Maria" or "O diva stella o vergine Maria". Yet other even cleverer people took the tune and added fragments of other popular songs as a 'quodlibet', like this two voice piece in which 'Robinet' is called to go and get his sheep from the woods in the quodlibet part. "Sault de gingant, je me cuidasse le pas de gingant, que mariage durast tant, sault de gingant" must have been a very fun dance!
David Fallows, the world's foremost expert in 15th century song, describes the phenomenon as success (rather than the slightly more emotionally subjective description of "popularity"), ascribing to the song a major international impact (see the introduction to his edition of the song alongside other English songs from 1380-1480, available in your local library maybe, it's volume 97 in the Musica Britannica monumental collected edition of music).
For a bit of musicological intrigue, we only know the name of the composer of O Rosa bella because in one manuscript the scribe wrote it, out of those 18 copies. In just one manuscript!
In another manuscript, a different scribe wrote down the name John Dunstable next to the song, who was probably a more famous English composer but might have been used as shorthand for "an English composer who was rather good". So why believe that it's really by Bedyngham? Well, David Fallows (again) argues that the particular manuscript where this name is found had much stronger associations with England and so perhaps had better insider information. (For the geeks amongst you, this is the article where he goes into detail: 1994, "Dunstable, Bedyngham and O rosa bella" Journal of Musicology, 12, pp. 287-305.) What can we learn from this? Our medieval forebears didn't care so much about who had created the music – the cult of the individual genius, the tortured soul in the rickety garret illumined only by one flickering candle and the occasional flash of lightening, and whose only release is in writing musical masterpieces, that was all far in the future! They didn't even really have a concept of composer until the late 15th and early 16th century when Josquin came along with his fancy ideas.
In this newly created take on the song, there are three additional voices added, making it the first time ever that a piece of music with 6 distinct polyphonic voices was written down. You can hear this it in its full whacky glory performed by the Purcell Consort of Voices, replete with crumhorns and racketts(?) and other wonderful sounds to accompany Grayston Burgess's clear, high singing – recorded in 1966 or prior, my only chagrin about it is the way it gets faster at the end (probably intended to come out as a sesquialtera proportion, or, to mere mortals, they play 3 in the time of 2). I prefer the beat to stay the same, which in fact gives a sensation of slowing down as the bar gets longer.
Wait a minute though, the text is in Italian! Say what? What has an Italian song got to do with England and English composers? Well, firstly, just as now, music was then an international business. That manuscript with strong connections to England where John Bedyngham's name is given, it came from Ferrara in Italy and two other Englishmen, Robertus and Galfridus de Anglia (could that have been Wilfred? or maybe Godfrey?), also have four songs in there, and all of them also have Italian texts. In fact though, a German musicologist in 2010 gave a convincing argument that 'O Rosa bella' was not the original text for this song. As I'm lazy and can't really be bothered to read all that German, I trust David Fallow's conclusion that, and I quote from him commenting on my Facebook page "the text we have was pinched from a song by Ciconia to make it acceptable on the continent."
Some of the earliest instrumental music that exists also made use of this song as a basis for two separate pieces. You can find these in the Buxheimer Orgelbuch, written in a type of keyboard tablature, making it legible to a single person playing an instrument like an organ (or maybe a harp…. well, I have to find something to play somewhere don't I?!!!) Vocal music at the time wasn't written in a score with each part rhythmically aligned above each other, but with the top part on the top left, then the tenor underneath that and a third voice on the top right with the continuation of the tenor underneath that, meaning it wouldn't be possible really to 'read' all the voices at once as a single instrumentalist. I like this performance, though I would seeing as it features a bray harp! (Played, of course, by a friend from my student days in Basel, Masako Art – us bray harpists are very few and far between.) You can hear me play a different version on my album.
As a totally subjective aside, there does seem to be something catchy about this particular piece which makes me feel justified in calling it the most popular song of the fifteenth century, as surely it had a similar ear-worm effect on listeners and singers back in the day as it still does now (witness, my non-musician husband singing it back at me for months after I've just performed it).
You can hear it on my album The Wool Merchant and the Harp.