In Nativitate S. Ioannis Baptistæ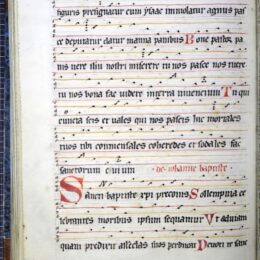 Today is the feast of the birth of St John the Baptist, the precursor of Christ. This Christian festival was placed around the time of the Midsummer festival when the solstice was celebrated all over Europe. In Scandinavia this is still a really big deal involving family gatherings, fires, sausages and beer (copious amounts as I understand it), and in France in some places they have a big 'feux de Saint Jean' (when there isn't a global pandemic). Last year I went to the one in my town and it was in the middle of a heat wave, so I honestly think the British bonfire night is a much more sensible time to go all blazey. But anyway, if the French songs about 'La Saint Jean' are anything to go by, it's a time associated with wedding vows.
But this wasn't why I wanted to post today!
I've been reading about sequences. It's one of my favourite forms of gregorian chant. They have a cloudy obscure early history (who doesn't?) and were almost entirely banned by the council of Trent in the 16th century (with a few exceptions, including one of my favourites, Victime paschali laudes, the Easter sequence, dating from the late 11th century). Sung between the reading of the epistle and the gospel, they started to be created back in the 9th century and were a focus of intense creativity for centuries. They occupied a 'soft' spot in the liturgy which meant there was a bit of freedom for singers in different places across Europe to modify, extend, ornament, write new words for and create entirely new sequence chants from scratch. So in different places and in different seasons there could be local sequences for a special saint which the monks or nuns of only one particular monastery might cherish as their very own. They even snuck their way out of the Mass and started appearing in processions or plays. Each strophe in a sequence is made up of a repeated tune with two lots of words, and the tune develops as the chant goes on. There tends to be an increase in intensity through use of a higher range towards the middle or end. At a certain point, they become regular and metrical, with rhyming Latin words that just feel rhythmic. A theorist from the late 13th century, Grocheo, describes sequences even as measured songs with a beat to which you could dance!
Well, that's not quite what I've done with my sequence for Saint John…
I have been reading an article by the musicologist Margot Fassler about women and their sequences (see bibliography) and it made me wonder if I could find something special for today that had been sung by women. It was a fun way to spend an afternoon. The codex I used is a Gradual from Klosterneuberg, a monastery in Austria where Augustinian canonesses sang lots AND wrote down their repertoire in such a way that it's nice and easy to read the pitches today (see the featured image at the top of this post). Happily for me, they liked sequences and had included one for Saint John which I edited and then sang and recorded for your delight, or edification, or something. Here's my comedy recording set up in my bedroom! Note toilet roll taped to my substitute bell-beater (my harp tuning key).
Why not sing along? Here's my edition:
Sancti_baptiste_christi_preconis sequence Klosterneuburg
Bibliography
Speculum 2019 94:3, 625-673