Another Saint John – this time, Saint John of Beverley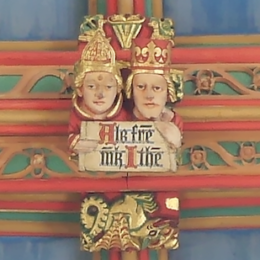 In May 2020, I should have performed with Vivien Ellis and Giles Lewin as part of the Beverley Early Music Festival, in the gorgeous St Mary's Parish Church there. Instead, we'll play there next year, but in the mean time we've been keeping our project 'Angels in the Architecture' on a nice slow simmer, revisiting pieces, singing, playing, thinking and reflecting on them.
We decided to create an irregular series of blog posts accompanying some recordings of the pieces from the concert, little nibbles to whet your appetite and to keep us musically and creatively active in the meantime. Here's something I've written about an unusual song for a local saint…..
It seems that I have a real thing for medieval sequences at the minute. I wrote about them quite recently to accompany one I wanted to perform to mark the feast day of St John the Baptist. Then I decided to work on another to link in to a project by my friends in Le Havre, members of Quarte&graal (we would have performed in late June and early July, but a certain virus put paid to that). Their programme focuses on Richard the Lion Heart so I chose something from England, where Richard was born even if he didn't spend much time there, from roughly the right time (end of 12th century). This was a sequence actually for St Margaret who I'd come across on my wanderings through medieval thought on dragons.
Just to recap, sequences are a type of plain chant with origins stretching far back to the 9th century. For a couple of hundred years, the sequence was a central focus of creative endeavour, because it occupied a place within its liturgical setting which was flexible, and which thus encouraged the making of new texts and new melodies. Different places, different saints, different feast days would all attract newly composed sequences with local flavour and beloved of people there. Some tunes were reused over and over again for new lyrics for these different places and focuses all across Europe. Some melodies maintained their popularity even over 250 years. It just goes to show, singing one song to the tune of another is actually a very medieval thing to do.
Sequences have a really strong structural framework that also make them attractive as a way of expressing poetic and musical ideas. Every short musical section is repeated with new words, and then comes a new melody which will also be repeated with new words. And then another new melody repeated twice and so on and so forth. The people who were creating these songs enjoyed playing a game of making the words of the poem echo the sounds or accents of its counterpart sung to the same melody, making it particularly satisfying as an artistic problem to gnaw over and solve. The posh term for this is 'double versicle' structure (though some songs in this format might even repeat more than twice creating triple or even quadruple versicles!) Unlike other medieval song forms which are still common today, like your regular verse and chorus type thing, this kind of pattern went out of common practice at some point in the intervening centuries.
One reason for my fascination is that in fact sequences are similar to other medieval musical forms, such as medieval dances like the istanpitta from fourteenth-century Italy (here's an example performed by one of my youthful favourites, the Dufay Collective) or the French estampie (on the first medieval album I ever heard, a rerelease tape of Music from the Crusades by David Munrow and the Early Music Consort, was this estampie played on shawm with an accompaniment of nakers.) In the ancient origins of the sequence, there is some suggestion that instruments might have been involved because very very old written sources for tunes called 'sequela' have no words but clearly became part of the sequence tradition. In addition, the early fourteenth-century theorist, Johannes de Grocheio, described a sequence as being performed in the style of a ductia. Very helpful. Or it wouldn't be if he hadn't also described how ductias should be performed.
"The ductia is a melody without words, measured with an appropriate beat. I say 'without words' because even though it can be performed by the human voice and expressed in musical notation, it cannot be written down with letters because it lacks a text and a poem. But it has 'a correct beat' because beats measure the ductia and the movement of one who dances it, and [these beats] excite people to move in an elaborate fashion according to the art which they call 'dancing', and they measure the movement [of this art] in ductiae and in caroles."
An intriguing connection between the ecclesiastical sequence and medieval dances!
The same kind of musical pattern also shows up in a type of song known as the lai. These tend to be long in length, allowing for the richly developed and winding musical pathway to lead you in and out of dark and shade, up hill and down dale. There is something soothing and enveloping about allowing yourself to follow the whole long structure from start to finish, easily as all-encompassing a world as a symphony. Guillaume de Machaut is the last French poet-musician to cultivate this kind of long form structure. My dear colleague Agnethe Christensen spent time over the lockdown delving in to one of his lais for a livestream performance from her beautiful stairwell. Even if you don't have Facebook, you should be able to watch, just ignore the request to log in!
One feature of the music for the lai is that it tends to repeat small formulas, sometimes varying them a tiny bit, sometimes lasting for many many repetitions. The way in which each syllable has a single note makes the flow fast and the repetitions can become mesmeric. Have a listen to Marc Mauillon singing one of the late thirteenth century lais in this kind of repetitive style. Along with his brilliant accompaniment from my friends Vivabiancaluna Biffi and Pierre Hamon, they manage a lovely flexible approach to the rhythm in this long form piece.
For another example I like, here is a very engaging version of the Lai de Kievrefuel (or in modern French, "chèvrefeuille", literally 'goat leaf', more commonly known in English as honeysuckle) performed by the French ensemble Alla Francesca.
Getting back to sacred music, our sequence for Saint John of Beverley comes from a manuscript known as the York Gradual (Oxford, Bodleian Library, Lat. Liturg. b.5). This book was written in the fifteenth century and used in a parish church in East Drayton in Nottinghamshire (north of Newark, east of Worksop) in the archdiocese of York. It represents a valuable witness to the local music which was sung in churches across the North of England – very many books of the ancient Latin chant were destroyed during the Reformation so it's especially precious. It's not surprising that Saint John, as a northern saint, would have his own special music; Saint Cuthbert and Saint Wilfred also have a unique sequence. By the way, there are some lovely photos of the church in East Drayton, including of the amazing 15th century rood screen there.
The sequence "Gaude mater ecclesia" is a really beautiful song which has a melody unknown from other sources (as far as I can make out) and this is actually unusual for sequences – there are thousands of texts and far fewer tunes. The tune for "Gaude mater ecclesia" though is quite typical, staying very firmly in a mixolydian mode (like a major scale but with a flat 7th – lots of Irish folk dances and other folk music are in this mode, making it quite familiar – here's my favourite Irish tune and it's a Mixolydian tune just like our sequence). Its centre is the note G and almost every section finishes on this same pitch giving us a really reassuring cyclical feeling of return to home. I've actually also put together a medieval style estampie (an instrumental dance) based on the tune of "Gaude Mater Ecclesia" and look forward to putting that together with Giles Lewin, fiddle and bagpipe player in Alva.
The text of the sequence talks about the miracles of healing attributed to Saint John of Beverley, like someone fallen off a horse who gets up again with no visible injuries. It also talks about a broken vessel from which wine flowed unceasingly, recalling of course Jesus' first miracle at the wedding at Cana.
I like this image of Saint John glowing with the divine light, daring to look deep into the will of God in the form of a dove:
"Dum de celo lux effulsit,

Et orantem curcumfulsit

Fulgor Sancti Spiritus.

Hoc Levita mirans lumen

Audax introspexit numen

In columbe specie."

While light gleamed forth from heaven

And shone around him who prayed

He was illuminated with the Holy Spirit.

This Levite (ie priest) marvelling at the light

Bold, he looked into the divine will

In the shape of a dove."
As a little side note, although not so well known today, Saint John of Beverley was an important saint. The anchorite and mystic Julian of Norwich mentions him amongst saints for whom she had a special regard:
"And seynt Johnn of Beverley, our lorde shewed hym full hyly in comfort of vs for homelynesse, and brout to my mynde how he is a kynd neyghbur and of oure knowying; and god callyd hym saynt Johnn of Beverley, pleynly as we do, and þat with a fulle glade and swet chere, shewyng that he is a full hygh seynt in hys syt and a blessydfulle"
It's possible that Julian had a particular regard for Saint John of Beverley because her miraculous recovery from illness, shortly before she had a series of visions as recounted in her book Revelations of Divine Love, possibly took place on his feast day, 7 May. Read more about the saint on this other blog that I really like.
From St Mary's church in Beverley, Jennie England video blogged this year on the feast day of Saint John of Beverley. Watch it here.
You can listen here:
Bibliography
Frere, Walter Howard, 'The Newly-Found York Gradual', Journal of Theological Studies, II.7 (1901), 578–86
New Grove articles on "Sequence", "Lai", "Gradual"
Page, Christopher, 'Johannes de Grocheio on Secular Music: A Corrected Text and a New Translation', Plainsong & Medieval Music, 2.1 (1993), 17–41
Reichardt, Paul F., '"Speciall Sainctes": Julian of Norwich, John of Beverley, and the Chronology of the Shewings', English Studies, 82.5 (2001), 385–92
Stevens, John, Words and Music in the Middle Ages: Song, Narrative, Dance and Drama, 1050-1350, Cambridge Studies in Music (Cambridge London New York: Cambridge University Press, 1986)