12 Sibyls: The madness of prophecy foretelling the life of Christ – CANX
Price: £23-£25
Date: Thu, Jul 09, 2020
Time: 9:30 pm - 10:30 pm
Venue: Merchant Adventurers Hall, Fossgate
Location: York
It is with particular sadness that I have to announce the cancellation of this concert with no postponement possible. Wishing everyone all the best during these hard times for live music.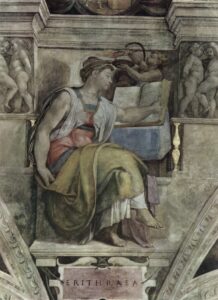 A duo concert with Italian singer and long-standing colleague, Patrizia Bovi (voice, natural trumpet, harp).
12 Sibyls
The prophetesses of the life of Christ and the Last Judgement
The Western church considered the sibyls to be predecessors of the prophets of the Old Testament, with special powers of interpretation of the divine word. In fact, connections to the coming of Christ were attributed to their visions. This was quite simply a way to eliminate the danger of their magic visionary power by appropriating them to the approved ecclesiastical story.
Iconography of the Renaissance era shows all of the sibyls with two symbols signifying their particular attributes. One is the same for each, the oracular book. The other is an indication of the particular aspect of Christ's life which was foreseen in their prophecies. By the 16th century, the number of sibyls was fixed at twelve, each with a symbol connecting their prophecies to the life of Christ. Probably the most famous depictions are by Michelangelo on the Sistine Chapel ceiling (see the image purloined from Wikipedia).
We'll be playing and singing in the extremely gorgeous setting of the Merchant Adventurers' Hall – I'm so excited :)