Angels in the Architecture – CANX
Price: £6-£18
Date: Sat, May 30, 2020
Time: 12:30 pm
Venue: St Mary's Church, HU17 8DL
Location: Beverley, East Riding of Yorkshire
Very sorry to announce that this concert has been postponed until 2021. Under the circumstances, it seems for the best. Stay safe everyone, stay well.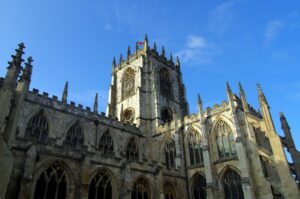 St Mary's Church, Beverley
This concert with Alva (Vivien Ellis and Giles Lewin) will be full of beautiful, witty and sublime music from England to match the incredible collection of medieval and Tudor roof bosses and sculptures found in St Mary's Church in Beverley, one of the largest and most splendid parish churches in the country.
With ballads we will highlight the stories that the images told to the people who looked up at the bosses or commissioned the sculptures. There will be newly composed music as well as sacred plainchant intended for Saint John of Beverley, whose standard led the way to the battle of Agincourt. We'll also perform gorgeous polyphony from the local abbey of Meaux (now just a collection of grassy mounds). I love this manuscript and several pieces already feature in my solo harp show 'Sacred Fragments' so it will be amazing to sing some of it in three parts with Vivien and Giles!