Sacred Fragments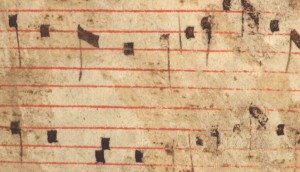 13th and 14th century sacred music from England played on a sweet and angelic harp with readings interspersed from the medieval mystic Julian of Norwich, a poem from a commonplace book on the shortness of life, comedy from one of the Towneley plays… The guiding idea behind this programme is the fact that so much English music from the Middle Ages is preserved only in very random and fragile ways – in fragments.
Scraps of parchment, with the top part of the page ragged and illegible; pages cut in half, folded, the ink all but worn off; slips no more than an inch wide; pages defaced and scribbled on by notaries or other owners; the pieces of parchment that used to form large and important codices of sacred music in medieval England have suffered many undignified fates, stuck into new books as protection, cut up, covered in graffiti.
Music scribbled in as a cramped afterthought; the odd song here and there; a motet written in upside down; blank staves left without music, just with text; additions long after the book was originally copied; other sacred music comes to us in manuscripts mainly intended for different purposes, collections and miscellanies of texts interesting to that long ago compiler.
This is more an exploration of a harmonic world than a recreation of the sound of the Middle Ages and some music is liberally treated to a dose of improvisatory ecstasy, adding to its already meditative quality.
For full programme details, please feel free to download this. 2015 11 Programme Sacred Fragments